Q - Which one is best for wrinkles & deep laugh lines?

A - We would recommend the Anti-Aging Booster Powder. It is best for transforming your skin quickly & reducing fine/lines & wrinkles as it contains 7x most powerful anti-aging ingredients that really help your skin look brighter & softer and can reduce fine lines and deep laugh lines . For the best results mix with the hydrating Elixir and an organic cream ( Manuka honey cream by Dr organics, at holland and barret)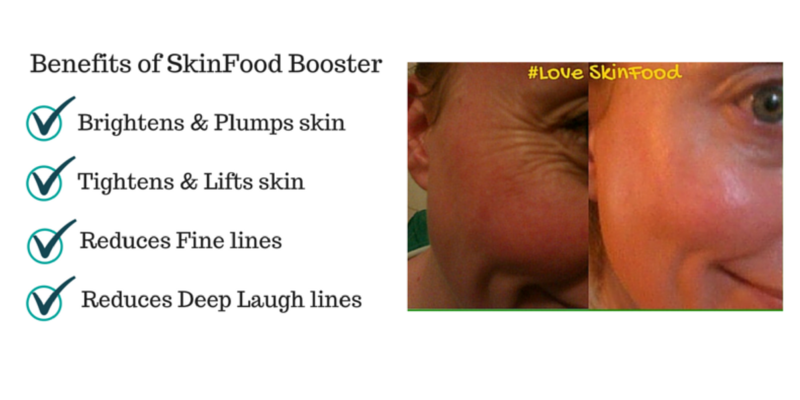 Q - Which one is best for saggy/ loose skin, fine lines & crepey skin?
A - Facelift Booster Powder Targets facial muscles - Firms, tightens and strengthens the facial muscles and skin.100% Pure & Potent Key active ingredients that help to Firm, tighten & Lift Facial muscles naturally.

Q - Which is best for under eye dark circles and puffiness?
A - Keratin Booster will help with thin/ dark, puffy under-eye problems and will make them clearer, stronger and brighter. It's great for elasticity under the eyes, it contains a high percentage of peptides that help to rebuild the thin skin under the eyes, the organic plant lipids are really effective for elasticity too.
We also recommend the SleepTox ( Topical Detox Elixir) that will target the root cause of dark circles and puffiness.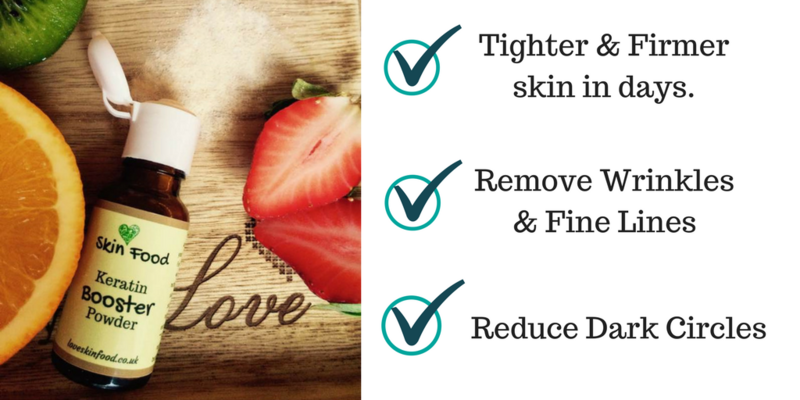 Q - What is Sleeptox and what are the benefits?
A - Cellular Rejuvenation. Feel healthy & look youthful
Helps you relax & sleep deeply, wake up rested & energized
Helps your body Naturally produce DHEA ( Youth & Health Hormone) Without the side effects of Synthetic DHEA
Gentle Detox to remove toxins daily, feel good every day
Helps to strengthen & cleanse digestive system for healthy glowing skin
Helps ease pain, discomfort, worry & stress
Helps to reduce PMS & Menopause symptoms
Q - Which one is best for dry skin? ( acne-eczema-rosacea)
A - Skinfood Keratin booster as it is very gentle & full of skin loving peptides that heal damaged, dry skin quickly.It also helps reduce wrinkles and dark circles. For eczema, eczema and rosacea it is best to not use products that do not contain any alcohol, SLS, fragrances or parabens as these are very irritating to the skin and may cause eczema. Try to only use natural or organic creams the Hydrating Elixir or orange blossom facial mist You can use organic oats as a facial wash and this will help to heal it and prevent it from coming back. Skinfood Anti-aging Booster can really help to heal blemished skin, reduce scars and rebuild damaged skin. We also recommend the SleepTox ( Topical Detox Elixir ) that will target the root cause of acne, rosacea, eczema and general dry flaky skin.
A- The Anti-Aging booster contains Retinol A and Vit C that can make your skin feel sensitive, these are very pure so you need to use only a tiny rice sized amount until your skin becomes used to it. If you use any products with harsh ingredients ( alcohol, chemicals, fragrances) These can irritate the fresh new skin cells so its important to only use natural or organic products so your skin can become soft & healthy. Be gentle with your skin, use a microdermabrasion cloth 1-2 times a week and use simple alcohol-free makeup remover & toner daily. ( Do not rub and pull at your skin as this causes broken veins, wrinkles, thin & crepey skin ) We Recommend using the Keratin booster in the day for sensitive skin.
Q - Which product is best for hands?
A - Skinfood Anti-aging Booster works really well for hands as it helps to reveal fresh younger skin and will leave you hands feeling soft and supple
Q - When do I use the Booster?
A -Shake bottle before each use to keep the powder loose & avoid clumping. Use the Anti-Aging Booster at night, on the face and around the under eye wrinkles. Do not apply over the eyelids or let the product get too close to your eyes.
At night use the Anti-aging Booster with your cream or Elixor. In the mornings you can apply the Keratin or Facelift Booster in the same way. The Anti-Aging Booster helps to reveal fresh new skin daily & regenerate the skin & the Keratin Booster helps to rebuild healthy strong skin daily
Q- Can you use the products with any moisturizers?
A- We recommend using only a natural organic moisturizer/serum or our Hydrating Elixir / water mist to use with your SkinFood Booster. * See Recommended products
When we use creams that contain chemicals, alcohol, parabens or fragrences they are damaging our skin, making it age faster & preventing us from getting the dramatic results. We strongly advise you use a hyaluronic serum, Dr Orgaincs cream, Orange blossom facial mist recipe or our Hydrating Elixir is the perfect combination to use with our SkinFood range to get you the best and fastest results.
Q - Does it really work?

A - You can read the many real reviews on the comment section on facebook or review page on the website.
Q - Can I layer the Boosters to be used in one go?
A - Yes you can use the Anti-Aging booster at night over the face and around any eye wrinkles ( not over eyelids) mix with the Elixir or water mist, wait till absorbed then apply the Keratin. In the morning use the Facelift Booster with the Elixir/mist & apply the Anti-Aging Booster around the under eye area. All of the Boosters are very moisturizing so when layering them only use with the Elixir or facial mist as a cream would be too heavy on the skin.
You can also give yourself a spa facial by mixing the Anti-Aging Booster with organic yogurt ( 2x pea sized amount of powder with 1 tablespoon of yogurt) Apply to the skin & leave on for 10 minutes & remove with warm water& the microdermabrasion cloth.
Q- Is this Skinfood beneficial for older skin or is it more of a preventative for younger skin?
A - This Skinfood is beneficial for all ages as our skin needs vitamins, antioxidants and lipids. Just like eating a healthy and well-balanced diet your skin will respond to fresh healthy skincare. We have clients 60+ years that are getting great results!
Q - What products are safe to use whilst pregnant?
A - Keratin Booster while pregnant as it is full of peptides & organic lipids, very gentle & natural. Its best not to use the Anti-Aging booster while pregnant as it contains Retinol A, but the keratin is safe to use while pregnant. Mix it with Aloe Vera gel or an organic cream.
RECOMMENDED PRODUCTS RECOMMENDED PRODUCTS USED WITH BOOSTERS
Anti-Aging - Targets Wrinkles and Aging Skin Hydrating Elixir ( LoveSkinFood.com )
Keratin - Targets Dark Circles and Thin Skin Orange Blossom Water ( Recipe Card )
Facelift - Targets Saggy Skin, Fine line's and Wrinkles Dr Organics Manuka cream ( Holland & Barrett)
Elixir - Cellular Rejuvenation for Dry, Dull, Aging Skin Virgin Coconut Oil - ( Holland & Barrett )
Sleeptox - Cellular Rejuvenation and Detox for the Body Avocado Oil ( Holland & Barrett )
Simple or Nivea Eye make up remover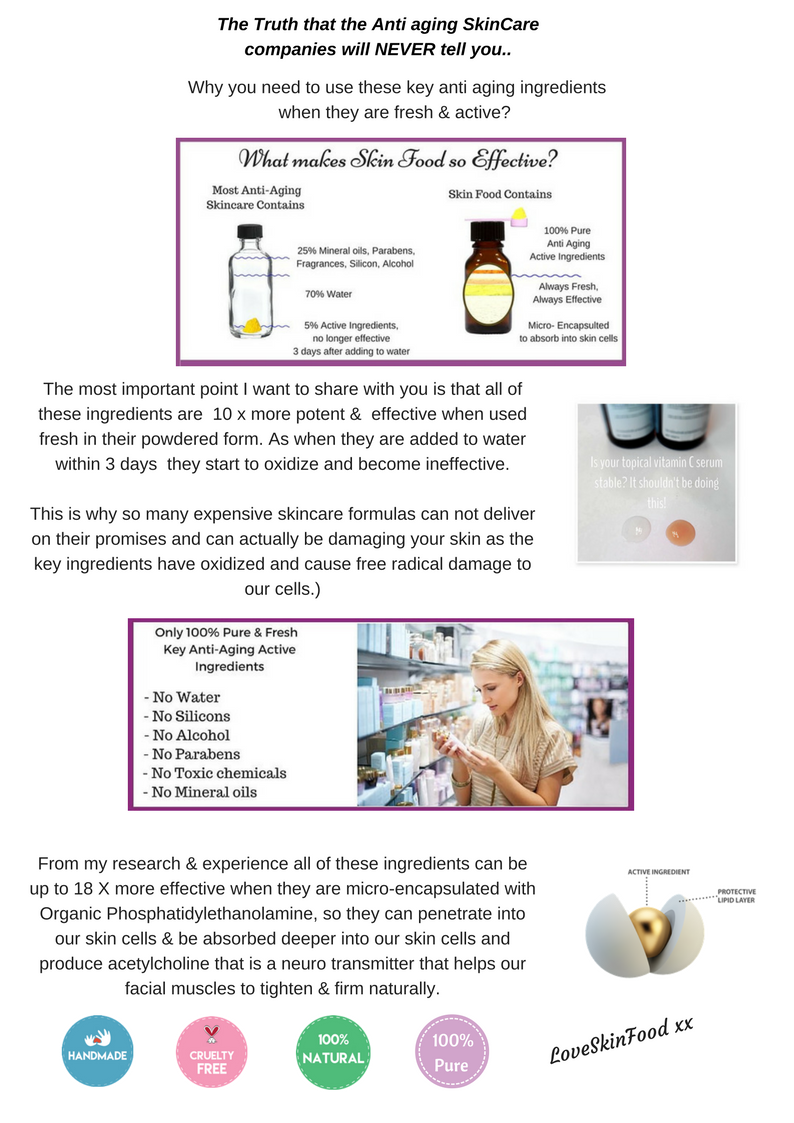 Q - What are the ingredients for the Skinfood Antioxidant Booster Powder?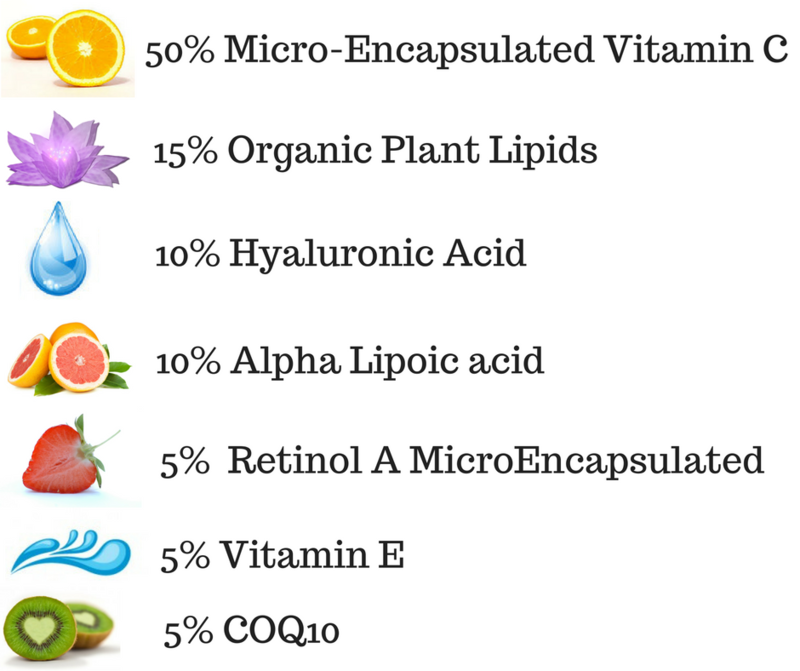 Q - What are the ingredients in the Hydrating Elixir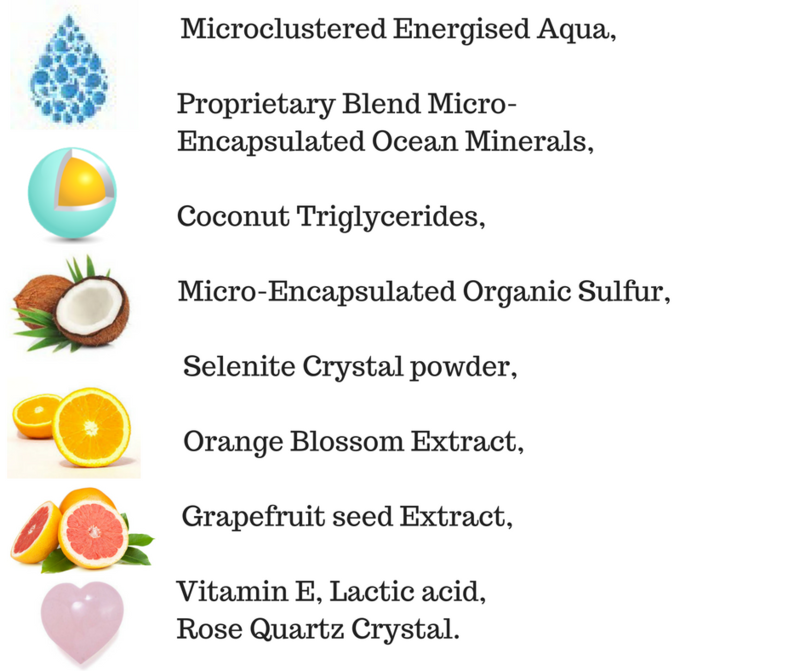 Q - What are the ingredients in the Skinfood Keratin Booster Powder?
Keratin Peptides

Organic Plant Lipids

Marine Collagen Peptides

Hyaluronic Acid

Light Reflecting Minerals